Early life in England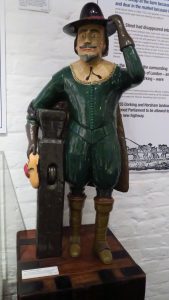 William Mullins was born about 1572 in Dorking, in the county of Surrey, England, located about 21 miles south of London. He was probably the son of John Mullins and Joan/Joane (Bridger) of Dorking parish. John Mullins died in February 1583/84 and William's mother Joane married Vincent Benham on November 1st, 1585. The Dorking Register shows baptisms, marriages and burials of persons with the name of "Mullyns" between 1571 and 1585 and then a gap in those names of about twenty-five years until more names of this family appear.
The first mention of William Mullins in Dorking records was on October 4, 1595, when he was fined, at about age 23, two pence by the manorial court for non-attendance at that year's session. That record states that he was then residing in the Chipping borough district of Dorking. Records note a William Mullins named on a 1596 muster list for Stoke, near Guildford, Surrey, where it is believed he was living at that time and returning to Dorking about 1604.
While in Guildford, it is believed that Mullins married for a first time: name of wife unknown. During that time, it is also believed that his first wife gave birth to at least one daughter, name Elizabeth, with the baptism recorded at Holy Trinity Church, Guildford on December 11th, 1598. Elizabeth may have died young. Authors Caleb Johnson and Charles Edward Banks have indicated that this unnamed wife may have given birth to a son and daughter prior to the 1598 birth of Elizabeth. Records for Dorking, dated October 5th, 1604, again name William Mullins, then residing in the Eastborough district, where he was the head of a "frankpledge" – a group of ten families bonded to the king for their good behaviour. And if one member of the group was fined or punished, all members would be punished, which is what happened on September 19th, 1605, when Mullins and his frankpledge were fined for an unknown transgression.
Dorking records exist for several dates in 1612 for William Mullins:-
March 30th, 1612 – William Mullins witnessed the will of John Wood.
December 20th, 1612 – Mullins was named the overseer of the will of Jane Hammon. That document, for the first time, states Mullins' occupation as shoemaker.
December 28th, 1612 – Mullins purchased a tenement on West Street in Dorking. This house still exists and is often a stopping place for tourists. Banks refers to this house as the "Manor of Dorking."
August (Banks says April 29th), 1616, William Mullins was called before the Lordships of the Privy Council and held for an unknown reason for a period of time. May 1st he appeared before the Privy Council and was technically continued in their custody "until by their Honours' order he be dismissed." It has been speculated that this may have involved matters of a religious nature which may have forced Mullins to consider emigrating.
May 1619 Mullins sold his Dorking Manor holdings to Ephraim Bothell/Bothall for 280 pounds, which may have been a precursor of his preparations for the Mayflower voyage. It appears he made a good living as a shoemaker as his was one of the larger investments in the Merchant Adventurers group, of which he was a member, which was investing in the Pilgrim venture. His Will shows he had nine shares of stock in the Merchant Adventurers and that his estate consisted primarily of boots and shoes.
The London businessmen known as the Merchant Adventurers, under the direction of Thomas Weston, invested in the Mayflower voyage from the very beginning. The documents drawn up and approved by members of the Leiden church, imposed certain restrictions on the Pilgrims' work week, to which they agreed. But as the time to depart from England drew near, the Adventurers wanted the restrictions tightened which would have caused the Pilgrims to work almost 7 days a week, in an effort to increase profits, without enough time for religious activities. The Pilgrims baulked at this and refused to agree to the new terms. William Mullins played a part in these deliberations, probably because he had a large investment and needed to ensure a satisfactory return on it, as an Adventurers member. And although Robert Cushman, who had been the Leiden agent for Mayflower voyage preparations, came to Plymouth in November 1621 to try to settle the rift between the Pilgrims and the Adventurers, it was never resolved. Eventually the Pilgrims bought out the Adventurers and formed their own investment company.
On the Mayflower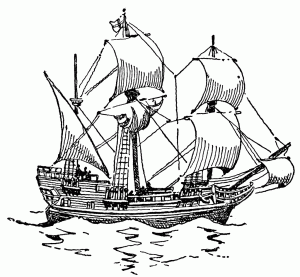 When the Mullins family boarded the Mayflower, they consisted of William, then about age fifty, his wife Alice, daughter Priscilla and son Joseph, as well as a servant. They boarded the ship with the London contingent and not as part of the Leiden religionists. Mullins was a shoemaker and businessman who carried with him a large stock of boots and shoes. The family left the two eldest children, Sarah, aged about 22 and probably married, and William, possibly in his late 20s and married, in Dorking. These two older children may have been borne by a first wife of Mullins. His daughter Sarah, married to a man named Blunden, was his estate administrator, as requested in Mullins' Will.
Recording those on board the Mayflower, William Bradford wrote of Mullins as "Mr. William Mullins", possibly due to his being somewhat more prosperous than many of the original settlers: "Mr. William Mullines, and his wife, and *2* children, Joseph and Priscila; and a servant, Robart Carter."
The Mayflower departed Plymouth, England, September 6/16, 1620. The small 100ft ship had 102 passengers and a crew of 30-40, in extremely cramped conditions. By the second month out the ship was being buffeted by strong westerly gales, causing the ship's timbers to be badly shaken, with caulking failing to keep sea water out and the passengers, even in their berths, lying wet and ill. This, combined with a lack of proper rations and unsanitary conditions for several months, attributed to what would be fatal for many, especially the women and children. On the way there were two deaths, a crew member and a passenger, but the worst was yet to come. After arriving at their destination, in the space of several months, almost half of the passengers perished in cold, harsh, unfamiliar New England winter conditions.
November, 1620, after about three months at sea, including a month of delays in England, they spotted land, which was the Cape Cod Hook, now called Provincetown Harbour. After several days of trying to get south to their planned destination of the Colony of Virginia, strong winter seas forced them to return to the harbour at Cape Cod hook, where they anchored. William Mullins signed The Mayflower Compact 21st November, 1620
In the New World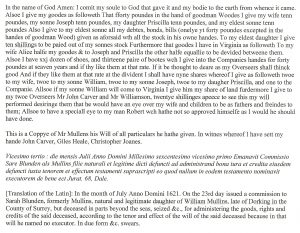 William Mullins, his wife Alice and son Joseph all died within months of arriving in the New World, along with their servant Robert Carter. Only their daughter Priscilla survived. William may have been the first of the family to die, probably on February 21, 1621. In his Will, written on his deathbed, he mentioned "my man Robert" indicating Carter was still alive then. According to Stratton, Alice, her son Joseph and servant Robert Carter were all alive April 5th, 1621 when the Mayflower set sail on its return voyage to England, but all had died before the arrival of the ship 'Fortune' in mid-November of that year
Family
The Family section has been revised based on an article about the William Mullins family by noted Mayflower researcher and biographer Caleb Johnson which appeared in the March 2012 Mayflower Quarterly. Mr. Johnson reviewed hundreds of pages of material on this family in England, in particular about the two wives of William Mullins. What he has created is what he refers to as a speculative hypothesis with genealogical information that he believes is entirely reasonable and plausible.
William Mullins probably married his first wife, Elizabeth Wood, in Stoke, near Guildford, Surrey, England, sometime prior to December 1598 – possibly in the early 1590s. She was the daughter of John and Joan (Taylor) Wood. She died sometime prior to 1604.
The children believed to be of that first marriage were:
William Mullins Jr., possibly born about 1593 and died in 1674 in New England, arriving there sometime after his father's death. Records for the 1643 'Able to Bear Arms List' for "Duxborrow" (Duxbury) note a "Wm Mullens."
He married:-
1. _________ by 1618 and had one daughter.
2. Ann (___) Bell in Boston on May 7, 1656 as her second husband.
Sarah Mullins, born possibly late 1590s. She married _____ Blunden by 1621 and remained in England. She was named the estate administrator in her father's will and was awarded administration in July 1621. No further information.
Elizabeth Mullins, baptized December 11, 1598 at Holy Trinity Church, Guildford, co. Surrey. She may have died young.
Priscilla Mullins was born about 1603 and died between 1651 and September 12th, 1687, the date of her husband's death. She had been a passenger on the Mayflower with her parents and her brother Joseph and only she survived after their deaths in 1621. She married Mayflower cooper John Alden before 1623 and had eleven children. The only proven descendants of William Mullins living today are descended from Priscilla.
The second wife of William Mullins and child of that marriage:-
William Mullins married secondly Alice _____ possibly 1605. Her ancestry is unrecorded. She may have been the widow of two possible men with the surname Browne. She died in Plymouth in the winter of 1620/1.
Child believed of his second marriage:-
Joseph Mullins, born about 1606. He was a passenger on the Mayflower with his parents and sister Priscilla. He died after the first winter in Plymouth – sometime in 1621, between April 5th and mid-November, date unknown. [His birth year corrected by Johnson.]
The Mayflower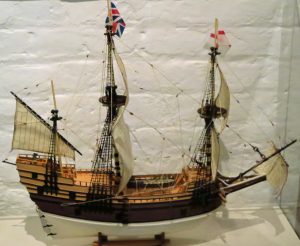 September, 1620, a merchant ship called the Mayflower set sail from Plymouth, a port on the southern coast of England. Typically, the Mayflower's cargo was wine and dry goods, but on this trip the ship carried passengers: 102 of them, all hoping to start a new life on the other side of the Atlantic. Nearly 40 of these passengers were Protestant Separatists–they called themselves "Saints"–who hoped to establish a new Church in the New World. Today, we often refer to the colonists who crossed the Atlantic on the Mayflower as "Pilgrims."
Pilgrims before the Mayflower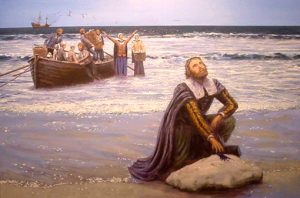 In 1608, a congregation of disgruntled English Protestants from the village of Scrooby, Nottinghamshire, left England and moved to Leyden, a town in Holland. These "Separatists" did not want to pledge allegiance to the Church of England, which they believed was nearly as corrupt and idolatrous as the Catholic Church it had replaced, any longer. (They were not the same as the Puritans, who had many of the same objections to the English church but wanted to reform it from within.) The Separatists hoped that in Holland, they would be free to worship as they liked."The Separatists who founded the Plymouth Colony referred to themselves as "Saints," not "Pilgrims." The use of the word "Pilgrim" to describe this group did not become common until the colony's bicentennial."
The Mayflower Compact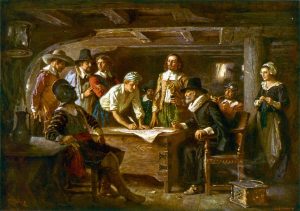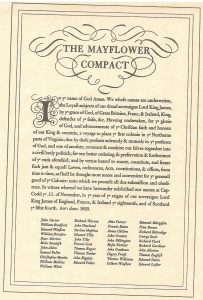 After two miserable months at sea, the ship finally reached the New World. There, the Mayflower's passengers found an abandoned native Indian village and not much else. They also found that they were in the wrong place: Cape Cod was located at 42 degrees north latitude, well north of the Virginia Company's territory. Technically, the Mayflower colonists had no right to be there at all. In order to establish themselves as a legitimate colony ("Plymouth," named after the English port from which they had departed) under these dubious circumstances, 41 of the Saints and Strangers drafted and signed a document they called the Mayflower Compact. This Compact promised to create a "civil Body Politick" governed by elected officials and "just and equal laws." It also swore allegiance to the English king.
Plymouth Colony and the First Thanksgiving
The colonists spent the first winter, which only 53 passengers and half the crew survived, living on board the Mayflower. (The Mayflower sailed back to England in April 1621.) Once they moved ashore, the colonists faced even more challenges. During their first winter in America, more than half of the Plymouth colonists died from malnutrition, disease and exposure to the harsh New England weather. In fact, without the help of the area's native people, it is likely that none of the colonists would have survived. An English-speaking Pawtuxet named Samoset helped the colonists form an alliance with the local Wampanoags, who taught them how to hunt local animals, gather shellfish and grow corn, beans and squash. At the end of the next summer, the Plymouth colonists celebrated their first successful harvest with a three-day festival of thanksgiving. We still commemorate this feast today. Eventually, the Plymouth colonists were absorbed into the Puritan Massachusetts Bay Colony. Still, the Mayflower Saints and their descendants remained convinced that they alone had been specially chosen by God to act as a beacon for Christians around the world. "As one small candle may light a thousand," Bradford wrote, "so the light here kindled hath shone to many, yea in some sort to our whole nation."
Further Reading
Banks, Charles E. (1929) The English Ancestry of the Pilgrim Fathers Who Came to England on the Mayflower in 1620, the Fortune in 1621 and the Anne and Little James in 1623. Heritage Books: Maryland
Mayflower (1620) Passenger List.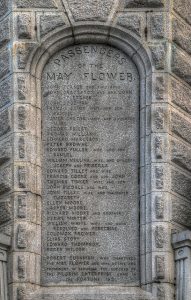 John Alden
Isaac and Mary (Norris) Allerton, and children Bartholomew, Remember, and Mary
John Allerton
John and Eleanor Billington, and sons John and Francis
Williamand Dorothy (May) Bradford
Williamand Mary Brewster, and children Love andWrestling
Richard Britteridge
Peter Browne
William Butten
Robert Carter
Johnand Katherine (White) Carver
Jamesand  Chilton, and daughter Mary
Richard Clarke
Francis Cooke and son John
Humility Cooper
John Crackstone and son John
Edward Doty
Francis and Sarah Eaton, and son Samuel
Thomas English
Moses Fletcher
Edward and Mrs. Fuller, and son Samuel
Samuel Fuller
Richard Gardiner
John Goodman
William Holbeck
John Hooke
Stephenand Elizabeth (Fisher) Hopkins and childrenConstance, Giles and Damaris; son Oceanus was born during the voyage.
John Howland
John Langmore
William Latham
Edward Leister
Edmund Margesson
Christopherand Mary (Prower) Martin
Desire Minter
Ellen, Jasper, Richard, and Mary More
William and Alice Mullins and children Priscilla and Joseph
Degory Priest
Solomon Prower
John and Alice Rigsdale
Thomas Rogers and son Joseph
Henry Samson
George Soule
Myles and Rose Standish
Elias Story
Edward Thompson
Edward and Agnes (Cooper) Tilley
John and Joan (Hurst) Tilley and daughter Elizabeth
Thomas and Mrs. Tinker, and a son
William Trevore
John Turner, and two sons
Richard Warren
Williamand Susanna White, and son Resolved (son Peregrine was born shipboard in Provincetown Harbor after arrival).
Roger Wilder
Thomas Williams
Edward and Elizabeth (Barker) Winslow
Gilbert Winslow
"Mr. Ely"
Dorothy (John Carver's maidservant)