Welcome to William Mullins descendant's page
If you have been verified as Mullins descendant and wish to add your details to our page, please email your information to mullins@mullinscoffeeshop.co.uk
If you have visited our coffee shop and you have a photo please email it, otherwise a recent photo of yourself will be fine.
Kathy Knowles
Kathy is the 10th great granddaughter of William Mullins. Lives in Massachusetts.
Visited Mullins house in September 2017
Below are photos of her visit and family tree.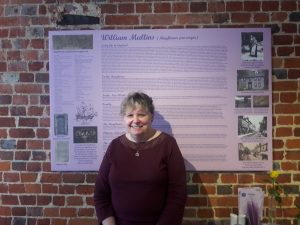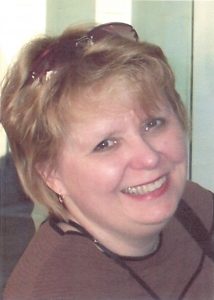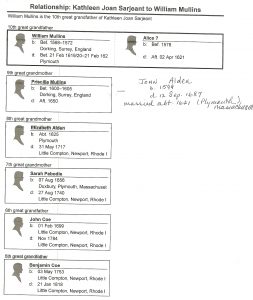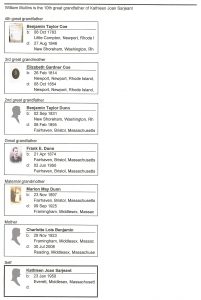 Marc Ormerod
Marc is the 11th Great Grandson of William Mullins and daughter Jill is the 12th, it has been verified by the Alden Society.
Photos taken when they visited Mullins house in March 2018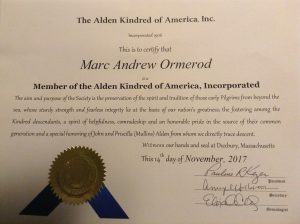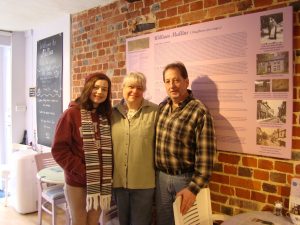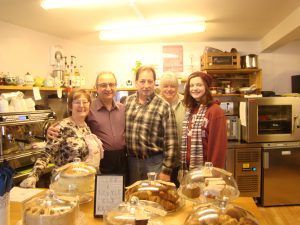 Laura Beckman
Laura is the 11th great granddaughter of William Mullins, Aaron (on the left) and Grant are the 12th great grandsons . They live in Nebraska.
They visited Mullins house in June 2018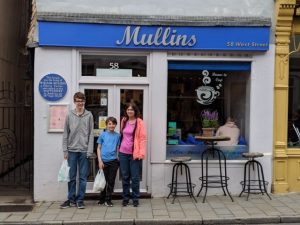 J. Small
11th generation descendant (left).
I've been told that one of Priscilla & John's descendants married a Loveland (from Thomas Loveland from Norwich, Norfolk mid - 1700s to Glastonbury, Connecticut - - then Wethersfield)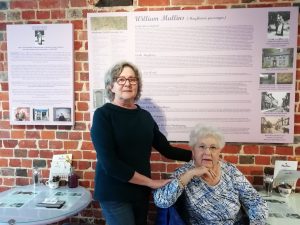 Cheryl and Eric Fricker
Cheryl is the 10th great granddaughter of William Mullins
I descend from Priscilla's daughter Rebecca who married Thomas Delano, their Son Jonathan Delano who married Hannah Doty (of Mayflower passenger Edward Doty), and so on.  Rebecca was the youngest I believe of all the children Priscilla and John had.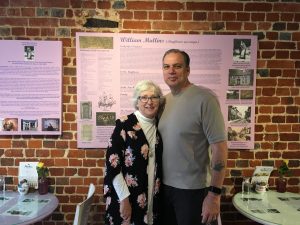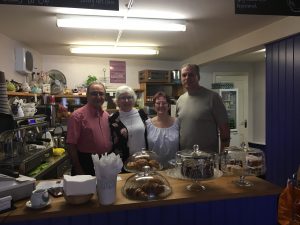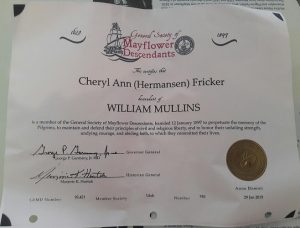 Sally Elizabeth (Small) Felling
I'm the 12th generation from John and Priscilla.
My great grandmother,  Emma Mariah Carr, married Henry Kimball Small (great grandfather) May 17, 1868.  They lived and ran a "cottage hotel" in Caribou,  Maine which is where my grandfather (Charles Leon Small) was born in 1874.  Apparently,  the hotel was destroyed by fire and the family decided to move to California.  We don't have a date (approx 1880), but know they traveled by train and shipped their household goods "around the horn".  They settled in the Riverside area where Henry was a Superintendent of a flour mill.  Bedsides running the mill, he actually delivered, on horseback, product to places as far away as Yuma, Arizona.  He started learning about and found a "new and improved" wheat seed.  He purchased 120 acres in French Valley, Ca and started growing and distributing his own wheat.  My grandfather,  Charles Leland Small, helped in this endeavor and eventually purchased his own land in Riverside, Ca where he had a Black Walnut orchard plus Persimmons and numerous other fruit trees, including one banana tree...(can't figure out where that came from?!)  He married Inez Louisa Loveland in Riverside, Ca (1905).  Inez was a credentialed teacher and taught school for a couple of years before marriage.  She is also part of a pioneer family that came to America about 10 years after the Mayflower landed and the family was instrumental in settling the town of Loveland, Colorado.  I'm hoping to gather more information about that arm of our family.  That takes me to Frederick Loveland Small, my father.  He was born in Riverside, Ca in 1906.  He went to college at Cal Poly Pamona and worked for Standard Oil Co as Head Corrosion Engineer in Avenal, Ca.  He was also active in Rotary, Toastmasters and the Presbyterian church.  He owned a fishing boat that was anchored in Morro Bay (Ca coast) which meant most of our weekends were spent on the beach or in the boat.  It was a wonderful childhood.  My mother, Viola sang in the Presbyterian choir and was a homemaker till all 3 children graduated from college.  At that point, she started working at the Avenal Hospital in the front office and as a nurse assistant. I feel fortunate to have lived in the small community of Avenal and the environment and era of my life.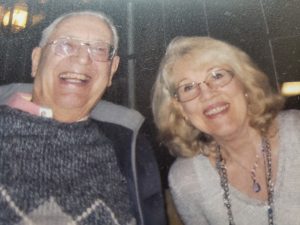 Sandy Alden Sahagian
I'm the 10th generation from John Alden and Priscilla Mullins.
Priscilla Mullins Alden 1604 -1680 & John Alden 1599-1687
Joseph Alden 1624-1696 & Mary Simmons 1638-1695
Joseph Alden 1667-1746 & Hannah Dunham 1670 – 1747
Eleazer Alden 1694- 1773 & Martha Shaw 1700-1769
David Alden 1727-1809 & Lucy Thomas 1733-1809
Enoch Alden Dr 1770- 1851 & Lucy Elmer1775
Benjamin Franklin Alden & Augusta L Jones 1825- 1914
Herbert H Alden 1848-1933 & Edelia I. Burdick 1854-1913
Franklin R. Alden 1886-1968 & Mable Colvin 1890- 1979
Herbert F. Alden 1914-1995 & Elizabeth Marie Jackson 1918-2005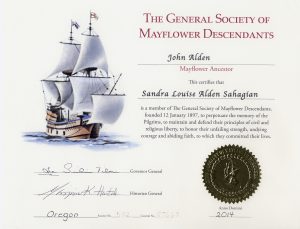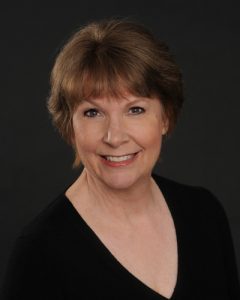 Erika Callies
Mullins/Alden line is in the Silver edition books - Mayflower Families through five Generations, Volume sixteen- part 1, the Paddock's are included.
I am connected this way;
William Mullins- Alice Atwood
Priscilla Mullins 1602-1685 - married John Alden
David Alden 1646-1719- married Mary Southworth
Alice "Else" Alden 1686-1774- married Captian Judah Paddock
Reuben Paddock 1717- married Rebecca Hand
William Paddock 1749-1837 married Elizabeth Windows
Samuel Paddock Sr. 1796-1875 married Frances J Jones
Samuel Henry Paddock JR. 1842-1910- married Joannah Jean Baker
William Paddack 1870-1918 - married Minnie Viola Baysinger
William LeRoy Paddack 1907-1992 - married Rose Carolyne Amelia Soefker
Doris Lorraine Paddack 1944-2015 - married Garth John Lauritsen
Erika Jean Lauritsen 1971- married Jeff Callies
Else Alden and Judah Paddock are buried in the Paddock cemetery in Barnstable, Massachusetts.  The Paddock line is documented in the book down to William Paddock 1749, and then no further generations are included.  The book is put out by the General Society of the Mayflower.
Theresa McGoldrick
Theresa is the 11th great granddaughter of William Mullins.
Theresa and her husband, Kevin, visited us from Apollo Beach, Florida, USA in May 2023. She says their visit to Mullins Coffee Shop and Dorking, was the highlight of their visit to the United Kingdom.
She is a member of the General Mayflower Society, as well as The Society of Mayflower Descendants in the State of Florida